Hyannis is the "big city" in the Cape. Possibly best known by tourists because of the Kennedy family's ties here, Hyannis definitely offers a lot to do. It is actually one of seven villages that comprise the town of Barnstable.
While this is the area of the Cape where you are most likely to find major chain retailers and restaurants, it still has its share of local homegrown merchants. Here you can visit fantastic beaches on Nantucket Sound and also access some of the Cape's best music, art and theatre. Some of the Kennedy-related points of interest are the JFK Hyannis Museum and the JFK Memorial.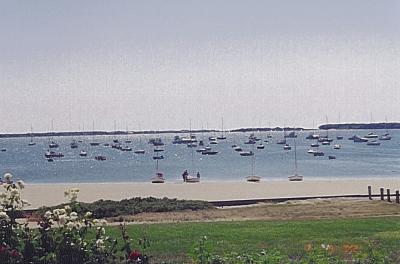 JFK Memorial Park in Hyannis
There are many cruises and ferries by which you can tour the area by boat or travel to Nantucket or Martha's Vineyard.
First seen by the man who named the Cape, Bartholomew Gosnold, in 1602, by 1636 Barnstable was incorporated.