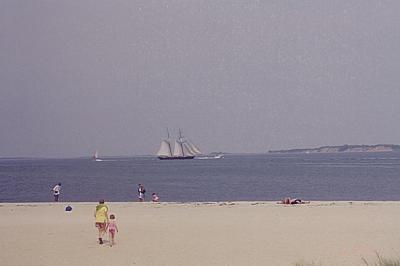 Martha's Vineyard lies five miles off of the mainland. There are many buildings here that have been preserved from the 1700s and the beaches are extremely picturesque.
Between shops, events and beaches, the island offers a lot to do. Edgartown, Vineyard Haven and Oak Bluffs are all villages within the island and are also key destinations for the traveller. There are public buses circling the island to assist tourists to find their destinations. There are also plenty of taxis available for those who wish.
Ferry's are available from Falmouth and Wood's Hole but schedules vary depending on the season.
Legend has it that Norsemen landed on this island around 1000 A.D. In 1524, Verrazano sailed past it and named it Louisa. However, in 1602 Bartholomew Gosnold landed here and named it after his daughter and the abundence of grapes growing on it.
The island is comprised of six towns: Vineyard Haven, Edgartown, Gay Head, West Tisbury, Oak Bluffs, Chilmark. It is also the location of Chappaquiddick Island.